Technopark – accessibility review
13.01.2016
In the end of year 2015 new station Technopark was opened in Moscow metro. Metro4All presents its review of accessibility and wayfinding features of the station.
General info
The station consists of 2 ground-level side platforms which are connected by a viaduct. The viaduct can be accessed via stairs in the middle of the platforms.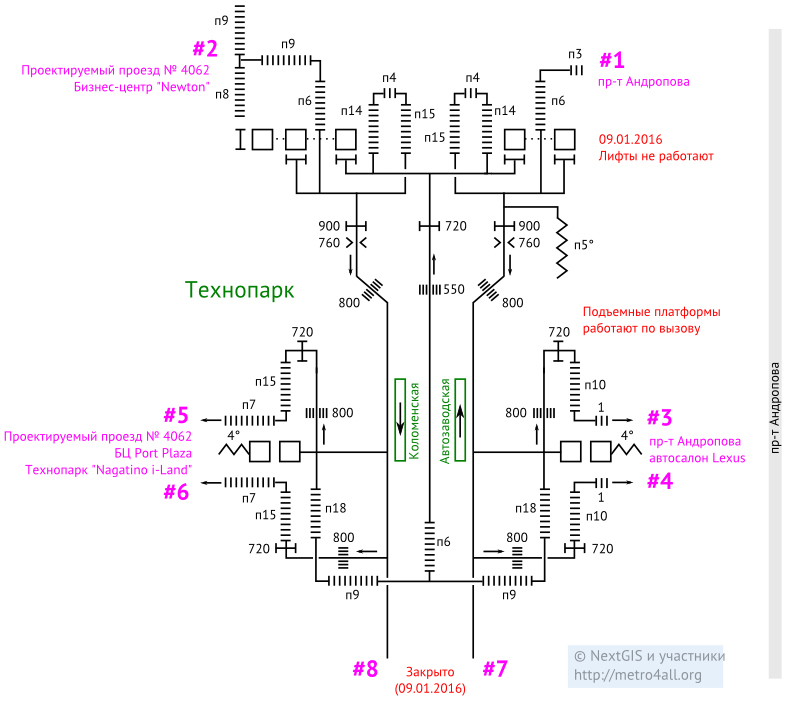 By January 9, 2016 only 6 station entrances and exits were open. Ways 1 and 2 are officially considered to be entrances, and ways 3, 4, 5 and 6 – exits. But one can actually exit the station through entrances 1 and 2 by using the viaduct and overhead gallery.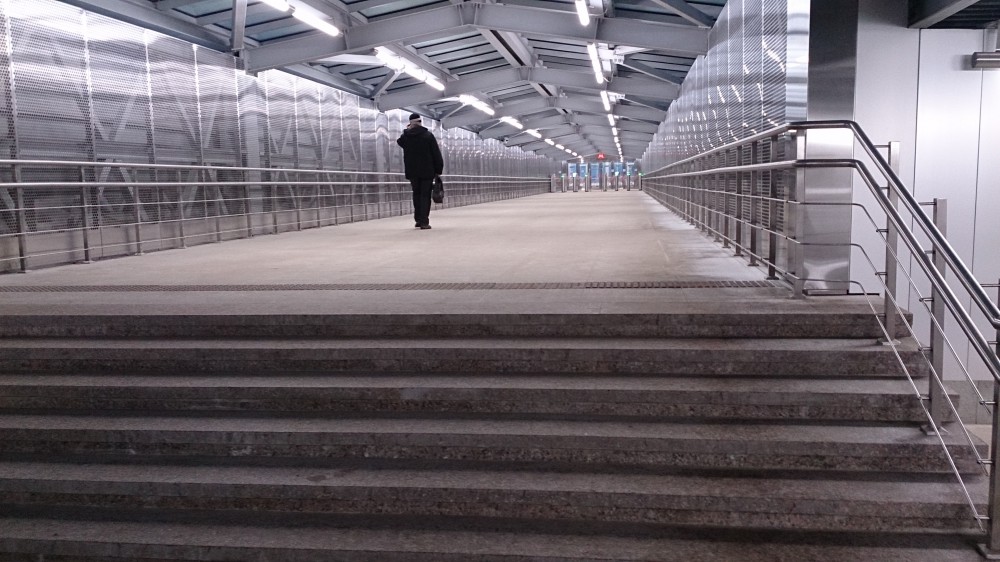 Also there's a possibility that exits 3-6 might serve as entrances for people with reduced mobility who use wheelchair platforms. To find this out Metro4All sent an official request to Moscow Department of Transport.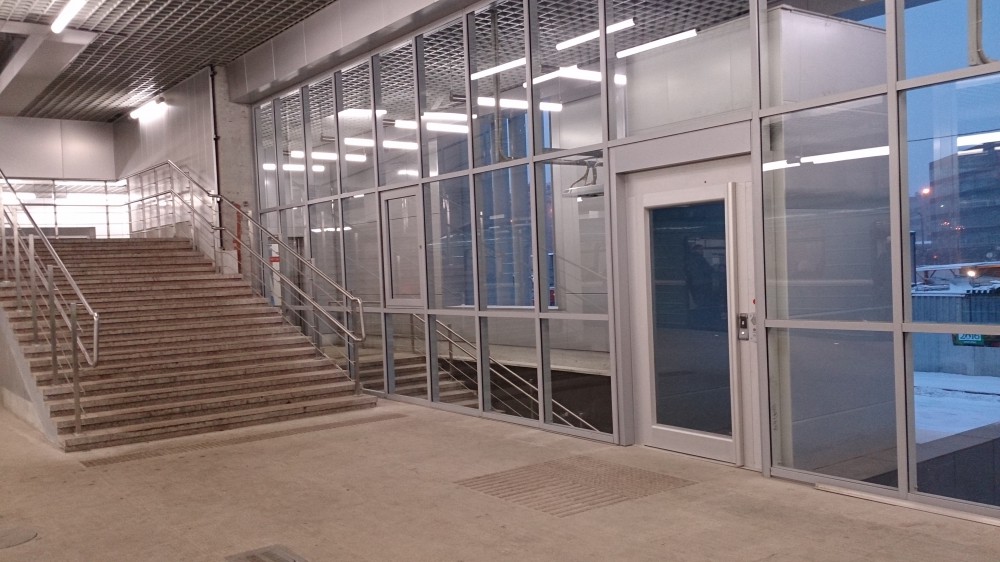 Turnstiles, doors and other narrow places
Almost all entrances and exits at the station have a 80-cm-wide turnstiled installed. The only exception is the exit from overhead gallery – all the turnstiles there are 55-cm-wide.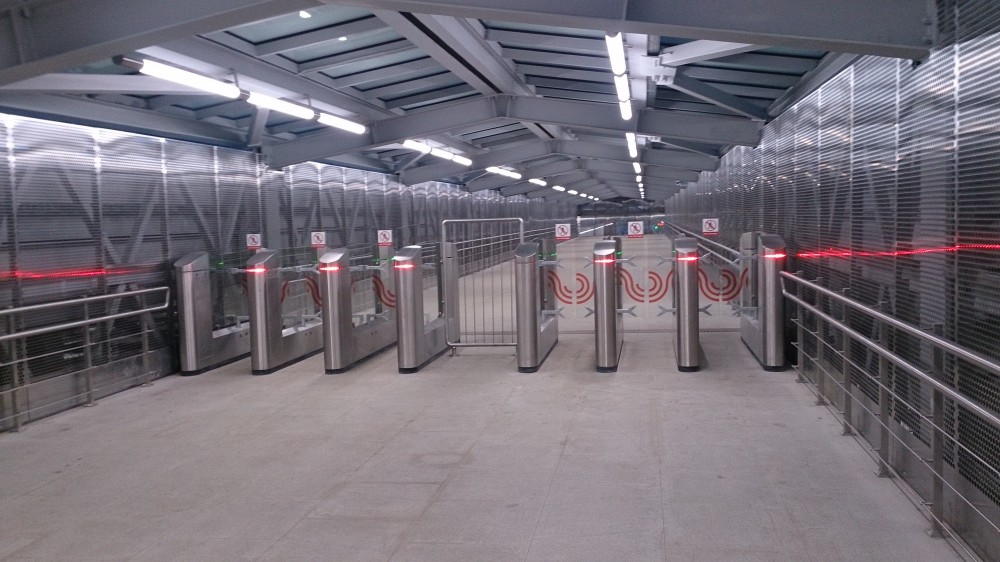 All the exits have doors 72 cm wide. Entrances 1 and 2 have wider 90-cm-doors installed, but right after passing through them passengers encounter security frames which are only 76 cm wide (one cannot bypass them).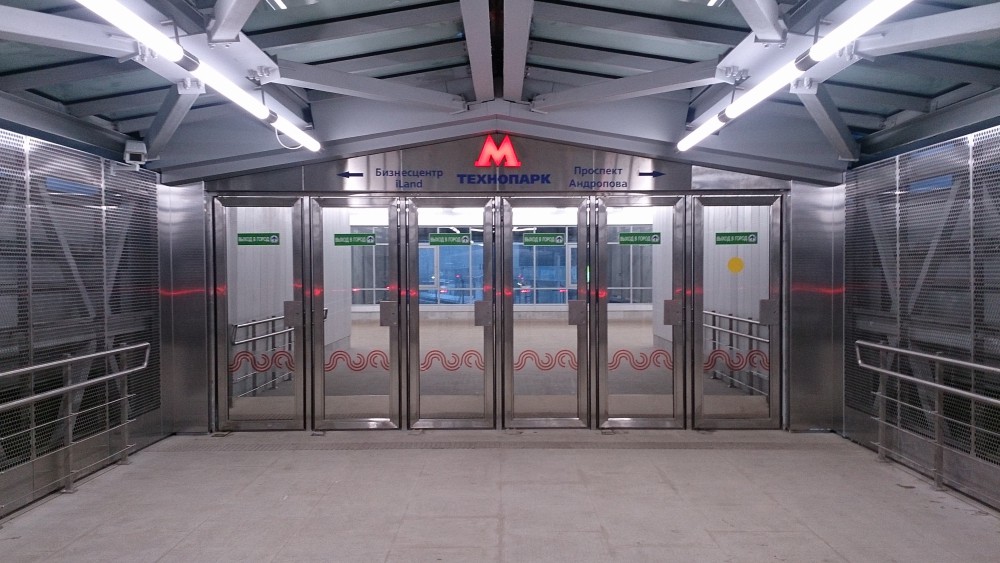 Stairs and ramps
All stairs at the station have double railings. None of the stairs has ramps or rails.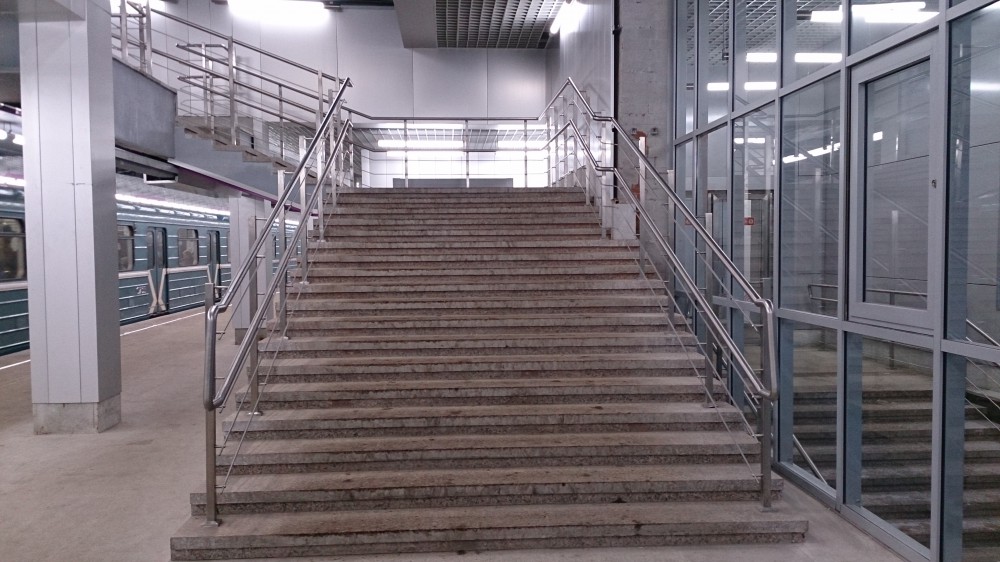 There's a ramp at entrance 1 with 5 degree slope, double railings and landings for rest. The main problem is that the ramp is not being cleared from snow, so using it in a wheelchair in winter seems really dangerous.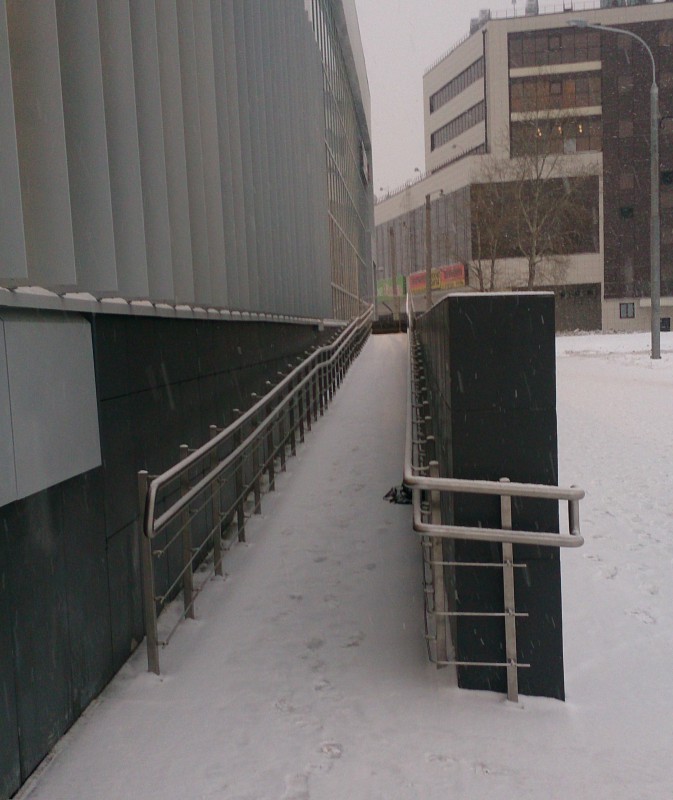 Elevators and wheelchair platforms
There are 2 wheelchair platforms (at exits 3-4 and 5-6) which probably can be used only by calling the station employee. Right now they are closed, and there are no terms of use available, but the intercomms and call-for-assistant buttons are already in place.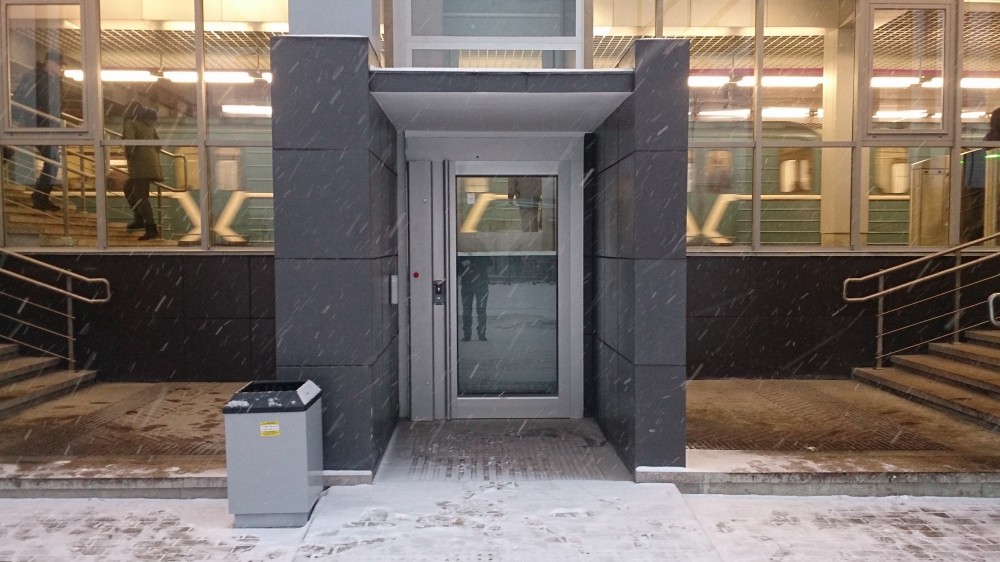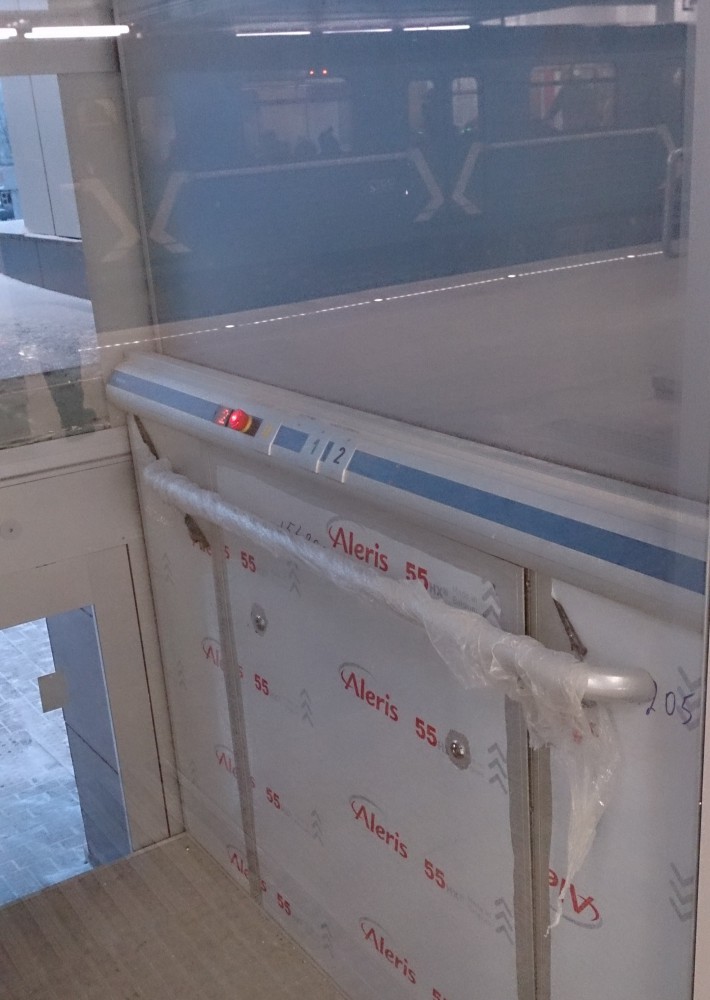 There are also elevators near entrances 1 and 2. They connect platform level and above-ground crossing. The elevator at entrance 2 will probably also connect street level (otherwise passengers will have to overcome 23 steps to reach it). Right now elevators are not in use.
Wayfinding signage
There is a new wayfind system at station, with numbers of entrances and exits. All signs have the note "temporary" though. Signs at the platforms are missing at the moment. There are placeholders instead of them.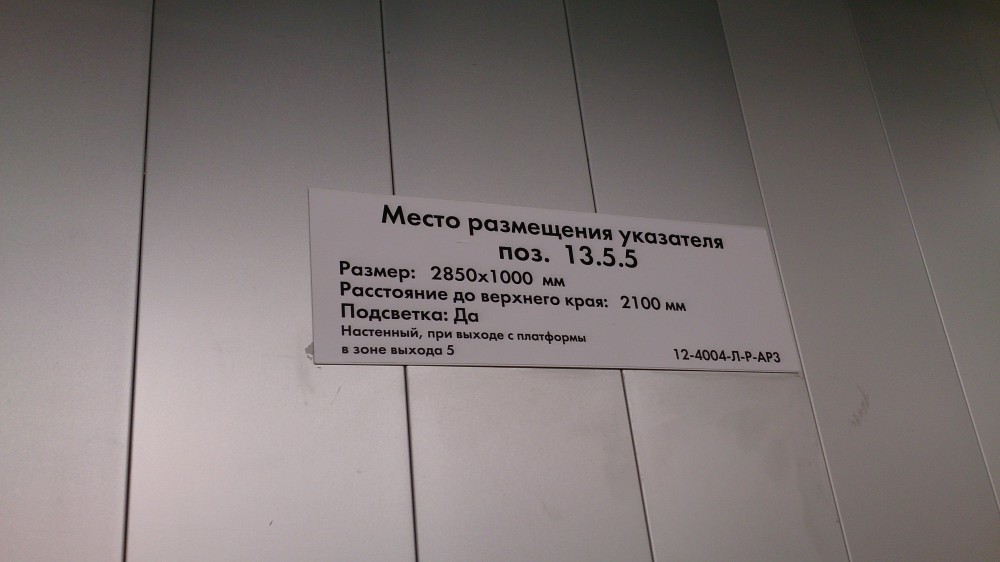 Accessibility for passengers with vision impairements
Tactile pavement warns that stairs, turnstiles and wheelchairs platforms are ahead. There are no colour marking at the first and last steps of flights of stairs.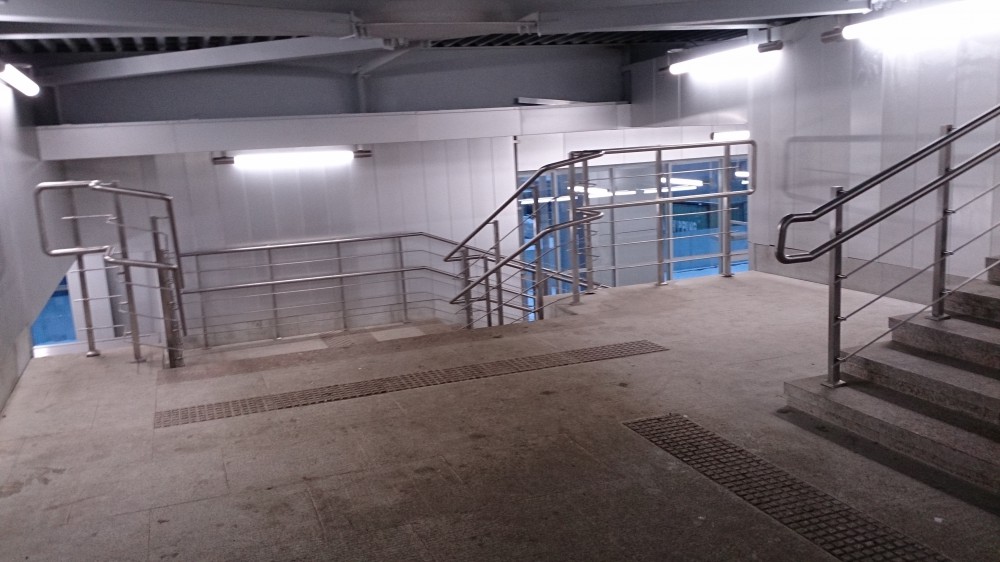 There are illuminated paths and tactile lines along platforms edges.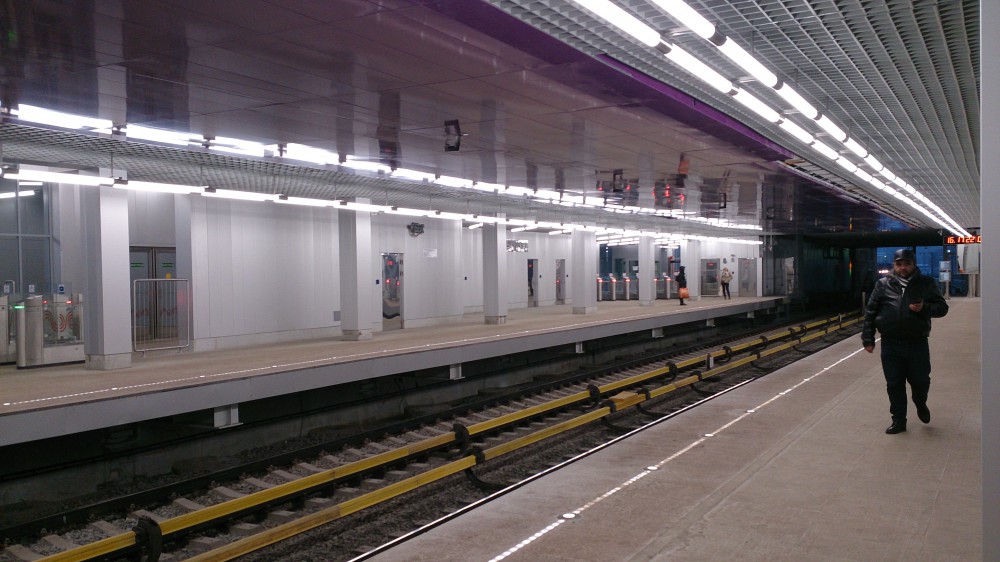 Assessment of station accessibility
Right now, while station elevators and wheelchair platforms aren't functioning, Technopark station sadly can't be said to be accessible for passengers with reduced mobility (the only exemption is entrance 1 which theoretically can be accessed by snow-covered ramp).
The accessibility evaluation will also depend on the response from Moscow Department of Transport about use of wheelchair platforms. We'll keep our readers informed and will continue to request information about terms of use of wheelchair platforms installed across Moscow metro.
All information about Technopark station is already in our web, Android and iOS apps.
If you have any comments or you want to help us with data updates in the future, please contact us!
No comments